Posted by
Dende
6th November, 2021 | Comments
The Federal Polytechnic of Oil and Gas Bonny, Rivers State welcomes application from suitably qualified candidates who sat for the 2021/2022 Joint Admissions and Matriculation Board (JAMB), Unified Tertiary Matriculation Examination (UTME) and obtained minimum score of 100 and above into her National Diploma (ND) Programmes for the 2021/2022 Academic Session. The available courses with their entry requirements include:
ELECTRICAL/ELECTRONIC ENGINEERING TECHNOLOGY
ENTRY REQUIREMENT: A minimum of Five (5) credit passes in SSCE, NECO or its equivalent. English Language, Mathematics, Physics and Chemistry are compulsory in addition to any of the following One (1) subject:
Agricultural Science/ Biology/ Fisheries/Health Science/ Animal Husbandry
Technical Drawing
Further Mathematics
Wood Work
Economic/Commerce/Marketing
Metal Works
Geography
Auto Mechanics
Government/History/Civil Education,
Electrical Installation and Maintenance works,
Electronics/ Basic Electricity.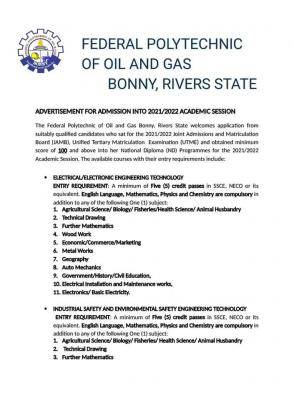 INDUSTRIAL SAFETY AND ENVIRONMENTAL SAFETY ENGINEERING TECHNOLOGY
ENTRY REQUIREMENT: A minimum of Five (5) credit passes in SSCE, NECO or its equivalent. English Language, Mathematics, Physics and Chemistry are compulsory in addition to any of the following One (1) subject:
Agricultural Science/ Biology/ Fisheries/ Health Science/ Animal Husbandry
Technical Drawing
Further Mathematics
Wood Work
Economic/Commerce/Marketing
Metal Works
Geography
Auto Mechanics
Government/History/Civil Education
Electrical Installation and Maintenance works
Electronics, Basic Electricity.

COMPUTER SCIENCE TECHNOLOGY
ENTRY REQUIREMENT: A minimum of Five (5) credit passes in SSCE, NECO or its equivalent. English Language, Mathematics and either One (1) basic science subject which include Physics, Chemistry and Biology are compulsory in addition to any of the following Two (2) subjects:
Economics/Commerce/Marketing
Geography
Government/History/Civil Education
Further Mathematics
Agriculture/Fisheries/Health Science/Animal Husbandry
Type Writing
Computer Studies/Data Processing.

STATISTICS TECHNOLOGY
ENTRY REQUIREMENT: A minimum of Five (5) credit passes in SSCE, NECO or its equivalent. English Language, Mathematics and either One (1) basic science subject which include Physics, Chemistry and Biology are compulsory in addition to any of the following Two (2) subjects:
1. Economics/Commerce/Marketing
2. Geography
3. Government/History/Civil Education
4. Further Mathematics
5. Agriculture/Fisheries/Health Science/Animal Husbandry
6. Type Writing
7. Computer Studies/Data Processing.

PETROLEUM MARKETING AND BUSINESS STUDIES
ENTRY REQUIREMENT: A minimum of Five (5) credit passes in SSCE, NECO or its equivalent. English Language, Mathematics and either Economics, Commerce or Marketing is compulsory in addition to any other Two (2) subjects.

METHOD OF APPLICATION
Interested candidates should kindly visit any JAMB CBT Centre or Cyber Café to effect their change of institution to Federal Polytechnic of Oil and Gas Bonny as first choice of institution.
Note: Candidates are advised to upload their O' Level Results immediately as non-upload of result(s) may affect their chances of being admitted. For further inquiry please call 07052188665, 08050942862 and 08038400592. You can also like our Facebook Page for new updates on admissions.

Signed
Registrar

Follow us on Social Media