The Zamfara State Government is now accepting applications from suitably qualified students who need support in pursuing a degree program. It is a fully-funded scholarship for all students.
Zamfara state scholarship board was established by law in 1996 when the state was created out of the former Sokoto State. The primary responsibility of the board is the disbursement of bursary allowance to the eligible state indigenes studying in various institutions of higher learning both at home and abroad.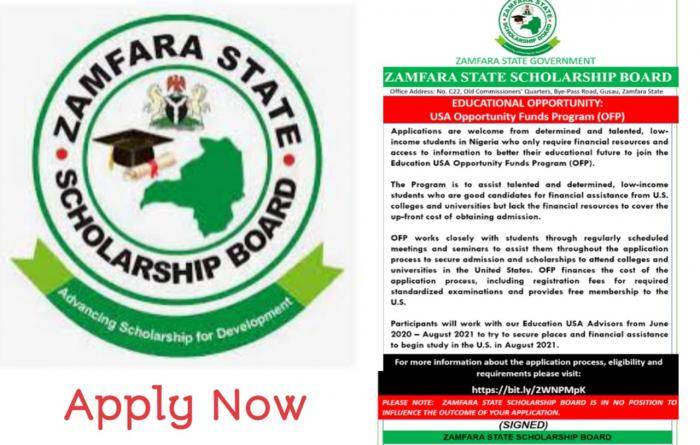 Application Deadline: May 22, 2022
Eligible Countries: Nigeria (Zamfara)
Type: Undergraduate
Value of Award: Fully- Funded
Eligibility:
Candidates applying for Zamfara State Scholarship must be bonafide indigenes of Zamfara State.
Candidates must have secured admission from recognized higher institutions of learning to study a course with supporting documents i.e Admission Letter.
Candidates for Matriculation or IJMB courses need to apply after completion of their courses to submit fresh scholarship application forms for his/her Diploma or Degree Programmes.
Application Process: Click here to begin application
Documents Required for Application;
Admission letter
SSCE/GCE O'Level Certificate.
Evidence of State of Origin / Local Government.
School ID card or National ID or Driver's Licence or International passport.
NOTE: CANDIDATE STANDS DISQUALIFIED AT ANY GIVEN TIME IF FOUND TO HAVE USED FAKE DOCUMENTS OR WRONG INFORMATION TO THE SCHOLARSHIP BOARD.

Visit The Official Website For More Information

Follow us on Social Media